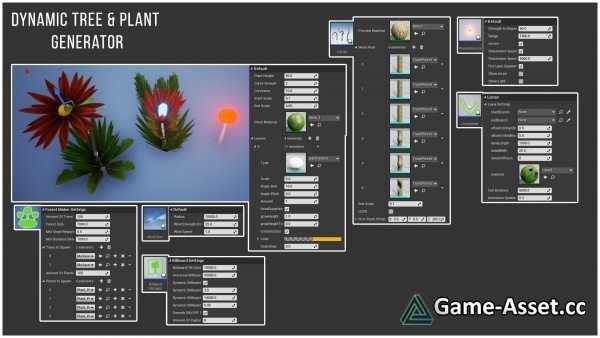 Dynamic Tree & Plant Generator – download Unreal Engine asset.
Procedural trees and plants with many dynamic features. Fast & easy generator system with intuitive drag&drop workflow.
This tool allows for fast and easy generation of dynamic trees & plants with intuitive drag & drop workflow and many generation parameters.
Latest update (UE 4.21+):
Vastly improved generation speed & runtime performance
Optimized vert count for default modular trunk & branch meshes
Improved default leaf materials
Improved liana placement options & behavior
Improved wind, force reaction & fall (from chopping) animations
Smoother wind direction/strength transitions
Better chopping location detection
2 new tree presets
Fixed plant interaction detection, now it detects all collision-enabled objects properly.
Improved asset naming & folder structure
Asset version: 4.26
Download links for «Dynamic Tree & Plant Generator»: