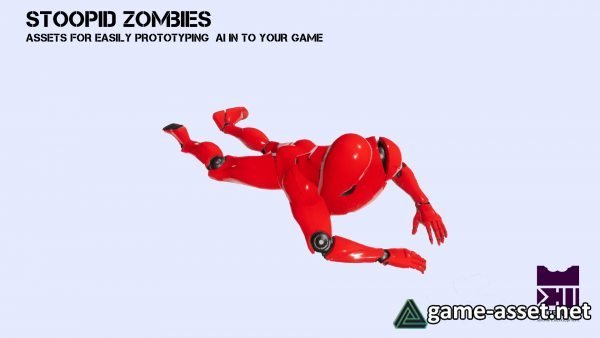 Stoopid Zombies - Simple AI that allows for effortless AI integration on a budget.
Info:
Plug and play component based AI,
The AI are light weight and search for only the actor component, this allows for rapid prototyping of your game with out worrying about setting up complex AI in the early stages of development.
They may not run well, and not know what they're swinging at, but they are "stoopid zombies", and they love brains!
Example configuration includes Zombie's chasing humans and converting them to Zombies after death.
* 1.5 updated the AI wandering system to fix bugs where they stop moving
* new animations added
* 1.3 major movement bug fixed
AI Rotation issues fixed
* 3 different movement types
Technical Details
Features:
component based AI
Affordable prototyping asset pack
Number of Blueprints: 3 Zombie, 1 NPC, 8 animations
Network Replicated: YES
Supported Development Platforms: PC , Mac
Supported Target Build Platforms: PC , Mac
Documentation: quick guide in BP Pack , https://www.youtube.com/playlist?list=PLlAdoAp87YkB7YJdq5HfDHP_XFzip6_XP
Join Us on Discord for live support: Join
Important/Additional Notes:
Asset version: 4.27