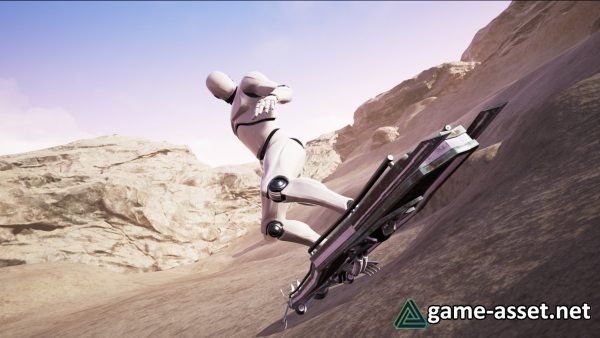 Download Unreal Engine Asset – Hoverboard System
Hoverboards are super cool. They always have a place in your game even if it seems a little bit crazy. You can always expect to find them in Sci-fi games.
Are you making a racing game? Or perhaps you want to add an special game mode to your game to add some cool features? Then this package will allow you to do just that very fast.
This is the type of system that would take several months to create. But we don't want you to spend months on it. You already have enough work and your game needs a lot of cool and unique features already! That's why we did all the hard work for you, so you can focus on making an awesome game and add a special mode to your game in just a single click.
Ready to add a Hoverboard to your game?
Technical Details
Features:
Multiplayer ready!
Can jump with the Hoverboard
Collision handled for two types of crashes: light crash and hard crash (colliding with something while going at high speeds)
Destruction system
Turbo / Speed boost
Ability to spawn the Hoverboard in front of you
Exposed values for quick change in the behavior (Max speed, Turbo speed, etc)
Override materials in the Hoverboard to change the look
Rider Component that enables any character to ride the board
Animation Blueprint for the custom character
Accelerator and turbo meter UI
Uses Vehicle Blueprint as a base
Asset version: 4.26-4.27