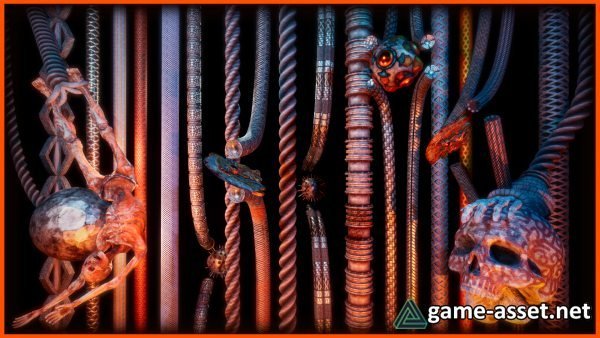 Blueprint Rope Cutting System and Meshes – Cable Physics Destruction – download Unreal Engine asset.
Blueprint system to simulate cable like objects with physics and destruction. The sliced off sections can be further cut. Use own meshes or ones provided. Supplied meshes are also compatible with the product "C++ Rope Plugin with Physics and Cutting".
This product contains a blueprint system to simulate cable like objects, it comes with the following:
Physics simulations,
Destruction (can be cut at run-time),
Custom meshes (use own or ones provided) - simply drag and drop,
Attached meshes can be swung like wrecking balls,
Bracket system holds spline in place at specified locations,
Material overrides via blueprint,
Vertex painting (reduce tiling effect),
Configurable length and curvature,
Taper width along spline length,
Supports sound for movement and cutting,
Spawn emitters on cut,
Many pre-configured ropes, cables and pipes (available in overview map as actor instances).
Asset version: 4.26