Advanced Framework - VR, Mobile & Desktop&nbspv4.26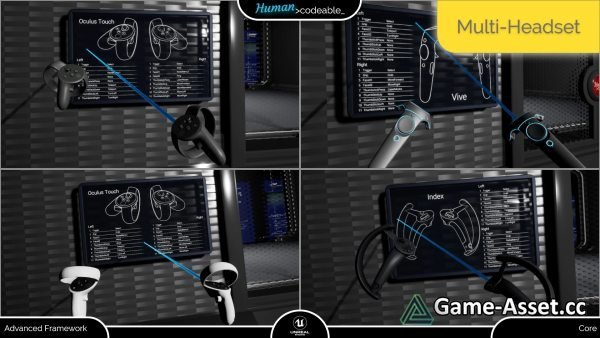 Download Unreal Engine Asset – Advanced Framework – VR, Mobile & Desktop.
A complete VR framework to develop VR, Mobile and Desktop applications such as games, experiences, Architectural Viz or product presentations. Implementing a huge variety of functionalities!
Interaction
VR: Modular highly configurable component based VR Motion Controller System
Desktop: First person character controllable through Keyboard/Mouse and Gamepad.
Mobile: FP Character with fully functioning touch interface.
Interaction
Grabbing: PickUp, Physics, Throw, Rotate Objects
Dragging: Pressing buttons, Drawers, Doors, Levers, Valves, Sliders
Snapping & Anchor system
Gaze View
Teleporter
Object Highlight System (Post Process, Mesh and Material based)
Multiplayer
The framework introduces a component based replication system to easily replicate all states any actors state. The Framework offers a ready to use multiplayer solution using the Epic Online Subsystem.
Asset version: 4.26
Download links for «Advanced Framework - VR, Mobile & Desktop»:

Rating: