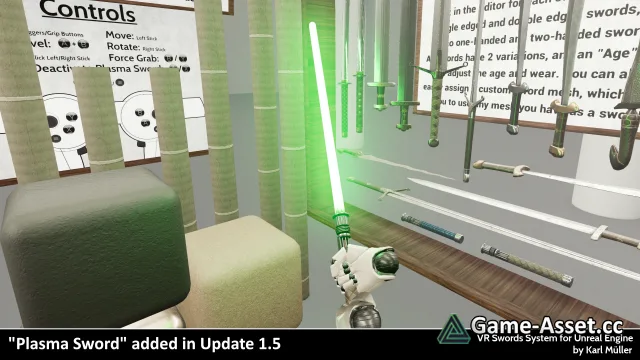 Download Unreal Engine Asset – VR Swords and Slicing System
Realistic customizable VR swords, with a robust Slicing System that includes advanced settings. Swords work in a realistic and intuitive way, and the slicing system can slice virtually any static mesh. *Updated with Physics, Throw Assist and Force Grab*
This System gives you realistic, customizable VR swords, with a robust Slicing System that includes advanced settings.
Swords work in a realistic and intuitive way, and the slicing system can slice virtually any custom Static mesh.
It can be used as a template to start your new project, or you can add it to an existing project with minimal effort.
It includes the all the assets and files for the included Example games, "Sausage Samurai" and "Tatami Attack!"
Slicing skeletal meshes is not currently supported.
Features:
1 Historical Swords with realistic functionality, ready to use in VR
A Spear and an Axe
Advanced Physics that make the swords interact with the world in a realistic way
Throw Assist System
2 Variations for each sword, plus an "Age" slider to add wear and damage to the swords
A custom 1 handed sword to create a custom sword using any custom mesh
A custom 2 handed sword to create a custom sword using any custom mesh
A Slice actor with customizable mesh, that allows you to slice virtually any custom mesh
A Holster actor that you can add to a Pawn or the world, that allows you to holster the swords
2 Example games that can be used as a template to build upon
Includes sound effects for "swoosh" sounds when swinging swords, Collisions, and "slice" sound effects when slicing procedural meshes, both of which can easily be replaced with your own custom sounds
Asset version: 4.26-4.27, 5.0
Download links for «VR Swords and Slicing System»:
HOT4SHARE: