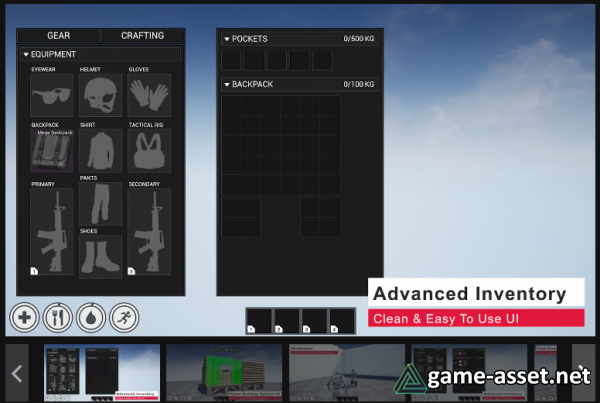 Download Unreal Engine Asset – Survival Game Kit V2
A multiplayer survival game kit with features like Jigsaw style inventory, equipment, main menu, crafting and weapons.
Survival game kit V2 brings all the features of the original with massive changes like a "Jigsaw" style inventory system, projectile based weapons and a full main menu and in game menu system just to name a few. V2 also includes Player Building System V2 a brand new player building system built from scratch for the needs of new modern survival games.
FAQ
If I own SGK V1 can I get a discount/refund for to buy V2?
No sorry, SGK V2 is not an update its a new project coded from scratch which took almost a year to develop. SGK V1 will still get engine updates, bug fixes and general improvements as its has for almost 2 years and as a side note Epic does not give marketplace sellers a way to give people discounts or a way to give existing customers discounts. If you have questions please feel free to email me at:
[email protected]
Can I upgrade a SGK V1 project to V2?
No, SGK V2 is a new project that uses completely different code and is not an update to SGK V1 so there is no upgrade path from V1.
Technical Details
Features
Multiplayer Support
"Jigsaw" Style Inventory
Player Building System V2
Custom Inventory Slot Layouts
Main/In Game Menu (Settings, Save/Load, Server Browser and Server Host Menus)
Weapons (Melee/Range)
Weapon Attachments
Save System (Does not support World Composition)
Throwables (Includes Grenade)
Building Ownership, Repair, Pickup and Demolishing
Destructible Build Parts
Campfire, Crafting Bench, Wood Chest, Vendors, Furnace & Bed (Respawn Point)
First/Third Person
Container Items (Store Items Inside Other Items)
Full Equipment System
Item Durability/Repairing
Item Crafting
Crafting Queue System
Aim Offsets (Procedural & Standard modes)
Instance Resource Harvesting
Respawn System
Fall Damage
Sprinting
Starvation & Dehydration
Weight System
Bleed Damage
Expandable Interaction System
Armour System
Blueprints: 206
Input: Mouse & Keyboard
Network Replicated: Yes
Supported Target Build Platforms: Windows, Mac
Documentation: https://defusestudios.com/sgkv2documentation/
Important/Additional Notes: APEX Destruction Plugin Must Be Enabled! (Default Enabled)
Password: 9823429992.GAME-ASSET.9355234367534
Asset version: 2.2.15 (5.0-4.27)
Download links for «Survival Game Kit V2»:
HOT4SHARE: