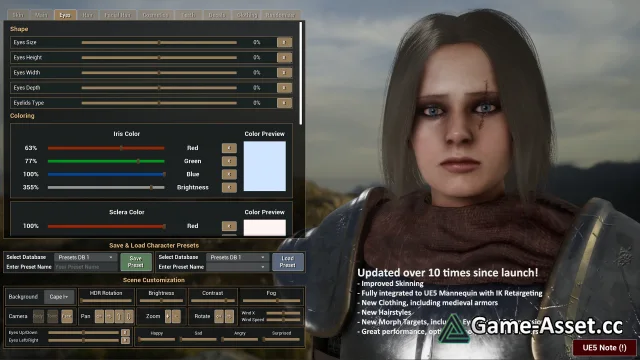 Download Unreal Engine Asset – Universal Character Customization System (2022 Update).
Design your own high quality characters, rigged to the UE4 mannequin, inside the editor in seconds. Males, females and monsters. Plug and play. Beautiful skin & hair shaders. Tons of free assets (clothing, accessories, hairstyles and beards, etc.)
Jun-22:
HUGE update coming soon (ETA: August) with a lot of new clothing and improvements (better 3D models, cloth simulation and texturing) over old cloth as well as a better default Third Person Character Controller. New medieval and contemporary clothing, focused in Robes, Hoods, Dresses, etc. New "Wraith" and "Headless" character options will be available as well. It also includes additional improvements to Vertex Hair Simulation. Note that this, and future updates, will only apply to UE5 versions due to significant integration changes.
UCS empowers developers and players by allowing them to design high quality humanoid characters (males, females or monsters) within the engine.
> 50 morph targets to define the shape of the face, eyes, nose, mouth, etc.
15 Bone modifiers to determine overall shape (arms size, body fat, etc.)
> 65 shader parameters for skin, age, muscularity, hair, etc.
12 stunning hairstyles (extremely customizable morphs & shader parameters) + 7 beard styles
Very efficient hair wind vertex animation. Control wind direction and speed using a material parameter collection. New: Hair animation with movement!
>50 free cloth meshes: Medieval armors, helmets, modern T-Shirts, Polo Shirts, Jackets, Pants, Glasses, Hats, etc. More added for free on each update!
Customizable cloth: up to 4 material layers, cloth fuzz, dirt, etc.
Amazing eye shader with configurable colors, veins, scale, animated glow, etc.
Cosmetic effects: blush, eyeliner, eyeshadow and lipstick.
Decals (freckles, scars, etc)
Configurable teeth, gums, tongue, dirt, shape, orientation, etc.
Powerful randomizer tool to effortlessly generate new characters or create small variations to existing ones.
Free simple IK foot placement system
Update 0.3: it can now be used as a player character creator as well!
Asset version: 1.1 (4.27, 5.0)
Download links for «Universal Character Customization System»:
HOT4SHARE: