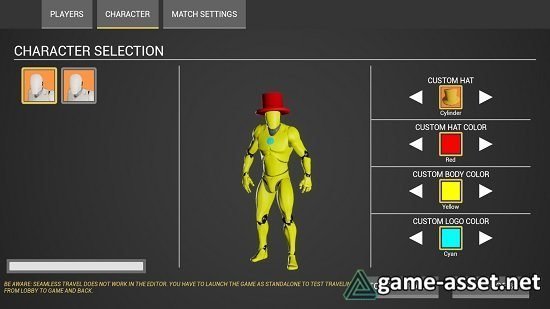 Multiplayer Lobby Kit – download Unreal Engine asset
Multiplayer Lobby with MainMenu, Settings, Host/Find/Join Session, Lobby, Character Customization. Using SeamlessTravel (4.20+) for Steam and allows Listen- and DedicatedServers.
The pack contains:
• Main Menu
•• Host, Find and Join Session
•• Graphic and Audio Settings
•• Summary of used UI elements
• Lobby
•• See other Players in either the FFA or Team-based PlayerList
•• Character Selection with examples:
••• 2 Pawns
••• 2 Hats
••• Color for Mesh, Logo and Hat
•• Match Settings
•• Ready up System
•• Switch Team System
• Gameplay Maps
•• No gameplay logic!
•• Lists selected Characters, Map, GameMode and remaining MatchTime
• Simple Chat
•• Works in Lobby and Gameplay GameModes
•• Can be turned on and off per GameMode
• Custom Widgets and UI
•• Complete new UI for 4.20
•• Custom Widgets like a Toolbar or a Horizontal Combobox
•• Use the given UI or replace it if wanted
• Everything is commented:
•• Variable Tooltips
•• Function Descriptions
•• The Code itself
• Listen- AND Dedicated Server support!
• Seamless Travel to support Steam (Steam has to be added by yourself!)
Asset version: 4.26-4.27