Low Poly Shooter Pack&nbspv3.2 (4.26-4.27, 5.0)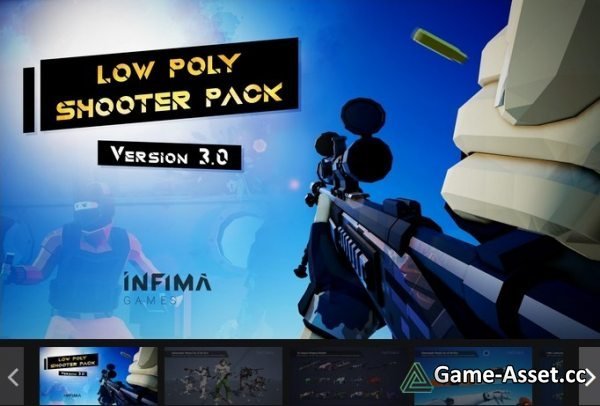 Low Poly Shooter Pack – download Unreal Engine asset.
Advanced shooter pack with a cool low poly style and a focus on polished mechanics and high-quality animations. Built to be used as a starting point for your game projects, for prototyping or for learning!
Blender Source Files Are Included
Create custom models or modify the existing ones using the included Blender source files!
Includes
Weapon Rigs
Weapon Models
Attachment Models
First & Third Person Character Model
Includes two variants of the character model, a set of arms to be viewed up-close in first person view, as well as a full body character to be viewed from a third person perspective.
The included characters and animations are fully compatible with the Unreal mannequin skeleton.
Character Animations
Each weapon comes with its own set of unique animations, such as reloading, inspecting, and shooting.
Both first and third person variants are included for most animations.
Asset version: 3.2 (4.26-4.27, 5.0)
Download links for «Low Poly Shooter Pack»:

Rating: