Tactical Espionage Action&nbspv4.27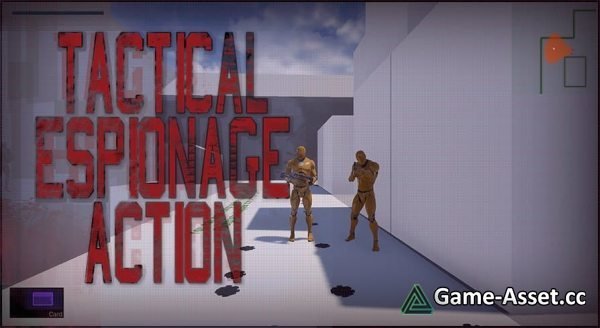 Tactical Espionage Action – download Unreal Engine asset.
A stealth action template with implemented AI guards that react to sight and sound.
There are 2 inventories where one contains supply items while the other one contains weapons.
Pistol, rifle and bare hand animations are already implemented.
Hints are displayed in map for easier understanding.
Special thanks to InkRibbon on designed item icons!
100% made with blueprints.
Gamepad supported.
Features:
Top-Down camera
First Person camera
Camera maneuver for sneaking
Camera maneuver for top down
Wall Strafing & cover
Animations for pistol, rifle & bare hands
Full radar
Surveillance
Radar jamming
Inventory
Supplies for healing
Enemy guards
Stamina for guards
Unconscious state
Patrol function
Headlock function
Auto-Aim
Crawling
Crouch state
Alerting system
Snow footprints
Noise causing
Gun Silencer
Gun Laser
Explosive Mine
Sniper Rifle
Ladder Climbing
Night Vision Goggles
Thermal Vision Goggles
Stealth Camouflage
Cardboard Box
Keycards
Doors
Controlled Missile Launcher
Asset version: 4.27
Rating: