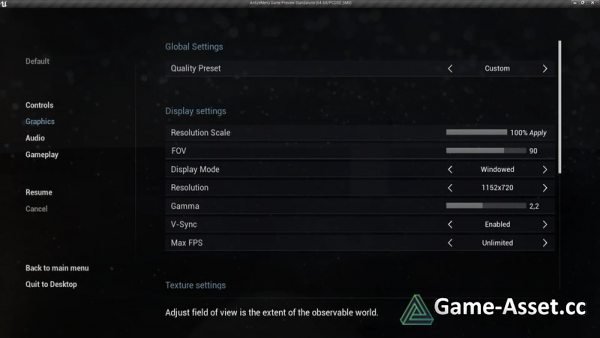 Advanced Option Menu (Input Remapping, Graphic, Audio & Gameplay) – download Unreal Engine asset.
An advanced option menu for your UE4 project, composed of modifiable templates, control, graphic, audio and gameplay parameters are already configured and ready to use. You can easily add your own parameters or templates.
List of features :
Multi Language Support (English and French already included)
Blueprints and widgets allow you to change your settings (Control, Audio, Display, Graphic and Gameplay).
Complete game settings menu ready to use, no action needed.
Pre-made widgets to use, easy to customize.
Full Keyboard/Mouse and Gamepad support.
Create new Action/Axis mapping.
Create new Graphic/Display setting.
Create new Sound setting.
Create new Interface & Gameplay setting.
Rename for keybinding shortcut.
Keyboard/Mouse and Gamepad Binding at runtime.
Graphic and Video setting Change at runtime.
Settings are saved on disk and re-applied when game starts.
Clean Blueprint with comments.
Can block an input type (Exemple: only Gamepad).
Optimized.
Asset version: 4.26