SciFi Trooper Set for Stylized Male and Female&nbspv4.27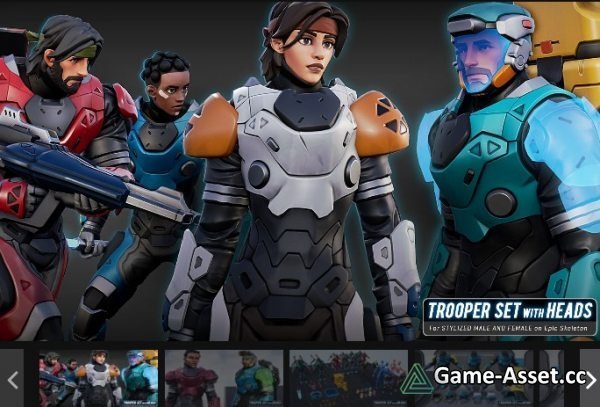 Download Unreal Engine Asset – «SciFi Trooper Set for Stylized Male and Female» – A modular SciFi trooper set with accessories, weapons, hairstyles and 4 human heads with morph targets. Also includes Male and Female base form templates.
This modular SciFi Trooper set is compatible with the characters and items from the "Stylized Action Adventure Male and Female" bundles. Includes a modular armor set with options, helmets, accessories, and heads with facial blendshapes. It is also compatible with the new Epic female mannequin.
The armor is modular for maximum compatibility : Upper/Lower, Upper with and without arms, Lower with and without feet, various helmets. Heads have blendshapes for Open mouth, Smile, Angry, Closed eyes, Blink L/R, Slanted. Modular hairstyle and facial hair options included. Weaponry and props included. Base template forms for male and female body types are provided.
Asset version: 4.27
Download links for «SciFi Trooper Set for Stylized Male and Female»:

Rating: