Modular military character 2&nbspv4.27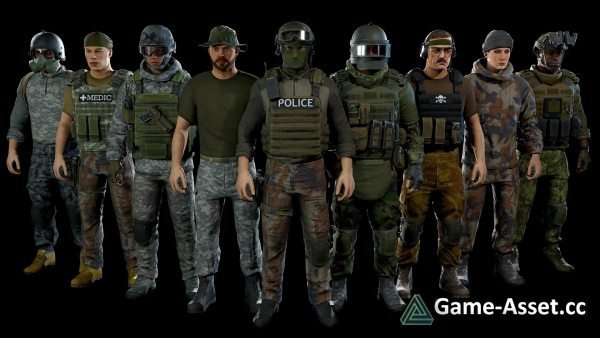 Download Unreal Engine Asset – Game-ready, low poly modular military character 2.
A Game-Ready modular, lowpoly, rigged with Epic Skeleton character with PBR textures.
The Character is integrated into the third-person game project. The character has Epic skeleton and use Epic Animation for the demo.
Character have 112 modular skeletal meshes with several skins for each module: 11 Heads, 18 bodies, 3 shirts, 3 pants, 3 boots, 7 tactical vests, 9 outfit pouches, 3 helmets, 4 caps, 9 head equipments, 4 backpacks, 3 firearms, 2 holsters, 18 vest patches, 7 radio, 8 military equipments.
Modules allow you to assemble several millions different characters.
Custom materials allow you to completely customize the look.
Asset version: 4.27
Download links for «Modular military character 2»:

Rating: