Modular Low Poly Robots&nbspv4.2x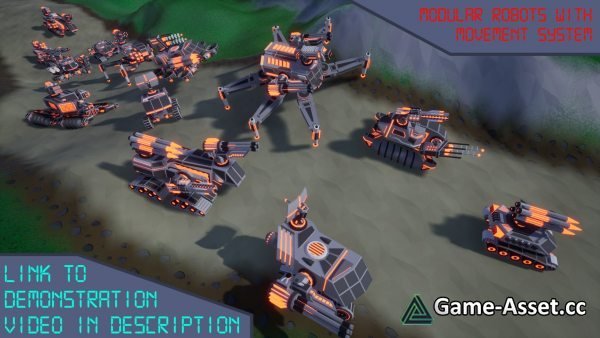 Modular Low Poly Robots – download Unreal Engine asset.
The pack includes 8 types of weapon modules, 12 types of case modules, 10 types of chassis modules and universal sphere trace based movement system for all chassis.
All parts of the robots are designed in low poly style and have 2 material slots (black and white palette and color material). Some parts have more materials, such as tank chassis (2 more slots for track materials).
The robot chassis are made with skeletal meshes and have animated blueprints. The movement system of all types of chassis is built with universal component that can be used in different types of chassis. This is a simple system may be used at different platforms. Watch the motion system work in a demo video.
The pack includes an example system for creating a robot during the game.
Features:
Multiplayer support
Thousands of possible robot combinations
Has playable demo
Universal chassis movement system
Low material count
Good robot physics interaction
Can be used in mobile games
Suitable for strategies
Asset version: 4.2x
Download links for «Modular Low Poly Robots»:

Rating: