Kunoichi (Female Ninja)&nbspv4.2x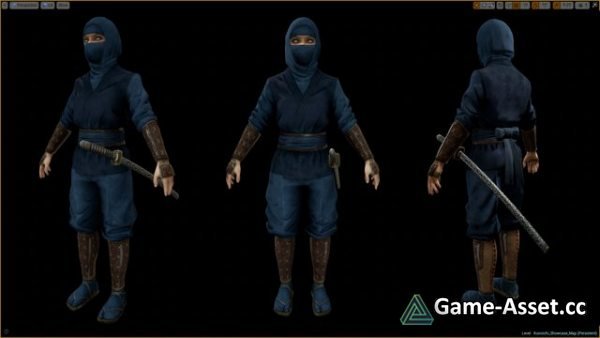 Kunoichi (Female Ninja) – download Unreal Engine asset.
Low-poly, female ninja character with a katana included. Character is skinned and ready to animate.
This character was inspired by the kunoichi, which is the modern term for a female ninja.
We tailored the character to fit well in any environment, ancient or modern, depending on what you want. Her weapon of choice is the katana but she's experienced with many more.
Technical Details
Triangle count:
- Kunoichi: 5296 tris
- Katana+Scabbard: 700 tris
Textures:
3 Different Textures variations (blue, green and red) for Kunoichi and sword:
- Kunoichi 4096x4096 + Katana 2048x2048 + Scabbard 2048x2048
- Diffuse (PNG);
- Specular/roughness (TGA);
- Normals maps (PNG).
This package includes 1 skinned character and 1 sword (blade and scabbard). No animations are included.
Asset version: 4.2x
Rating: