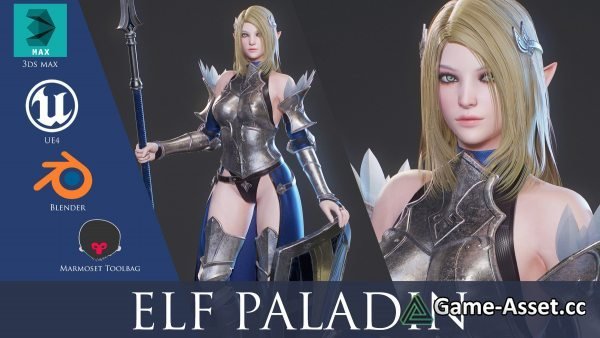 Elf Paladin – Game Ready – download Unreal Engine asset.
Low poly, game ready, rigged, PBR textures. Include weapons and nude mesh. Ready to import into various game engine like UE4 and Unity. Include nude meshs
Model format: .max (3Ds MAX 2018), .fbx, .mb (Maya 2018); .ueasset (Unreal Engine 4); .blend (Blender 2.8)
+Come with 3 body version: FullArmor, HalfNude and FullNude.
+UE4 project with playable character blueprint and hair/body/cloth physics.
+Total poly count for each body version (include weapons):
Full Armor: 27.000 polys Half Nude: 32.000 polys Full Nude: 16.000 polys
+MAX 2018 files with toggleable between body version in scene explorer, see 3dsmaxtogglemesh.jpg
Unit: centimeters Model Height: 171cm
+FBX folders contain all 3 versions of body.
+Rigging use 3DS MAX skin. Full body rig and basic facial rig.
+Unity project files. Unitypackage
+Morphs/Blenshapes for facial expression on character .fbx meshes.
+PBR textures (Metallic-Roughness) 2048X2048. DirectX Normal Maps. .TGA format.
Textures can be found in this folder: RyanReos_ElfPaladin\Assets\Textures
+Include Marmoset files with material and studio lighting setup.
+Screenshots .rar for more preview images (Warning: Nudity Content)
+Update: Blender 2.8 files with rigged mesh and full materials setup.
Asset version: 4.2x
Download links for «Elf Paladin - Game Ready»: