LowPoly Cats&nbspv4.27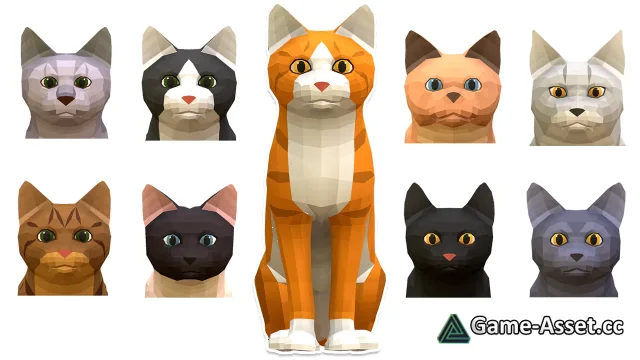 Download Unreal Engine Asset – Low Poly Cats pack with 1 texture and 80 IP/RM animations.
This pack of LOWPOLY CATS is perfect for your stylized game. The pack contains 15 cat breeds with 80 (!!) animations. Optimized models allow you to use them for games on PC and mobile devices.
The models have 2500 - 3500 tris and 36 bones. Texture map - only one albedo 1k.
80 animations (IP/RM):
Aggression
attack 1-6
caress idle(sit, lie)
hit front, back, middle
death 1-4, idle 1-3
eat drink
lie
sleep
fall
crouch (f-b-l-r)
walk (f-b-l-r)
trot (f-l-r)
run (f-l-r)
swim (f-b-l-r)
jump forward
jump up
jump run
jump place, etc.
Asset version: 4.27
Download links for «LowPoly Cats»:

Rating: