Fish for Fish School System&nbspv4.15-4.27, 5.0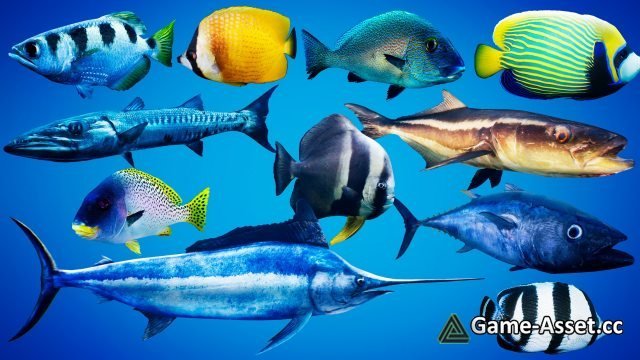 Download Unreal Engine Asset – Fish for Fish School System.
The "Fish for Fish School System" Package is a downloadable content asset which supports the Fish School System V2 and Fish School System. These fish can also be used without these packages as standalone Skeletal Meshes.
It includes 9 Fish Meshes, two of which have multiple textures for differing species, bringing the total amount of fish to 12. All fish include a minimum of 3 LOD levels, ranging from 1800 to less than 50 triangles. The average LOD0 triangle count is around 1000 triangles.
Fish species include:
· Marlin
· Archerfish
· Cobia
· Barracuda
· Batfish
· Gold Spotted & Black Spotted Sweetlips
· YellowFin Tuna
· Emperor Angelfish
· Butterfly Fish (Black & Yellow)
Asset version: 4.15-4.27, 5.0
Download links for «Fish for Fish School System»:

Rating: