Modular Skeleton&nbspv4.24 - 4.27, 5.0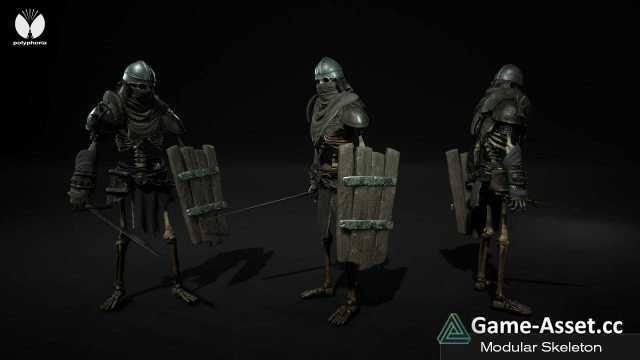 Download Unreal Engine Asset – Modular Skeleton is a set of costume samples to dress up a skeleton Army.
The pack comes with a customizable set of costumes to be used with light fantasy realistic-games. You can choose from a variety of predefined versions or use provided parts to create your own Skeleton Army.
Be it a caster, an assassin, melee or a ranged skeleton fighter.
Pack Overview
Multiple SK items: are stripped down to basic groups: hats, hairs, heads, upper-body, and shoes, you can mix everything to create skeleton enemies
Basic costume set design 2x pants per gender, 2x hats, chest base + variations with bags and tome, 4x bracers, 3x skeleton dress
Equipment uses a master material and a mask texture, which will allow you to tweak its visual appearance in detail.
weapons for caster and melee

Asset version: 4.24 - 4.27, 5.0
Download links for «Modular Skeleton»:

Rating: