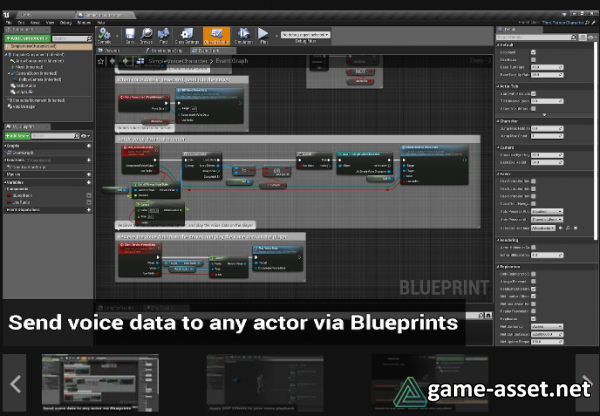 Download Unreal Engine Asset – Easy Voice Chat: Easy to implement Networked Voice Chat using Blueprints
Easy Voice Chat lets you add custom voice communication to your game. Voice data is provided as a byte array which can then be sent over the network using RPCs. This means it is completely independent of the Online Sessions system, and so can work without having to create a session.
The Voip Manager component captures audio, and then passes it to blueprints via an event. The Voip Audio component plays compressed audio back. Both of these components can be attached to any actor, meaning that you can have audio not just for within a game, you can also have it within lobby's or when spectating etc.
Uses New Audio Engine SynthComponent for audio playback, which allows you to easily apply DSP effects!
Please check the documentation to configure your project to be able to use the plugin, there are a few config changes required to get it working as intended.
Version 1.2 (28th December 2020)
Only a set of minor improvements to reduce the steps needed to get it working as intended. Documentation has been vastly improved for readability. Read the upgrade notes if you're upgrading from an older version. There is a slightly improved example project available too.
Technical Details
Features:
Voip Manager for voice capture
Voip Audio for voice playback
Blueprint exposed voice related events (Started talking, stopped talking, Microphone volume etc.)
Uses normal VOIP Project Settings for configuration
Code Modules:
Runtime: EasyVoiceChat
Number of C++ Classes: 3
Network Replicated: No - Handle this yourself in Blueprints
Supported Development Platforms: Win32, Win64
Supported Target Build Platforms: Win32, Win64
Password: 2763554287655.GAME-ASSET.122380986567
Asset version: 4.25/4.27
Download links for «Easy Voice Chat»:
HOT4SHARE: