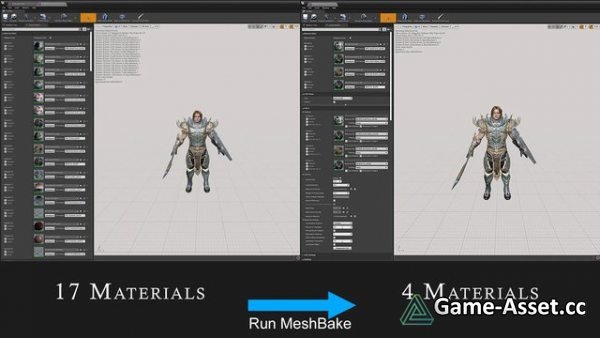 MeshBake – download Unreal Engine asset.
Bake and merge Skeletal Mesh and Static Mesh materials and sections
MeshBake is a C++ plugin that allows in-editor baking and merging of materials and sections for both Skeletal and Static meshes. MeshBake allows you to bake meshes without leaving the editor, thus avoiding the cumbersome importing and exporting of assets and recreating of materials that would normally be required when baking with a third-party program.
Features:
Bake and merge materials for both Skeletal and Static meshes
Merge separate SkeletalMeshes together while preserving skinning & mesh data
SkeletalMesh skinning preserved
SkeletalMesh bones, sockets, and skeleton preserved
Auto-Merge/Bake materials based on shading model type
Merge/Bake materials based on manually defined input/output section map
Bake vertex colors (optional)
Transfer vertex colors (optional)
Transfer clothing & clothing sections (optional)
Run on components in PIE or directly on assets in the content browser
In-Editor plugin, no importing/exporting of assets required
Code Modules:
MeshBake [Editor]
Asset version: 4.26
Download links for «MeshBake»: