Hardware Information&nbspv4.27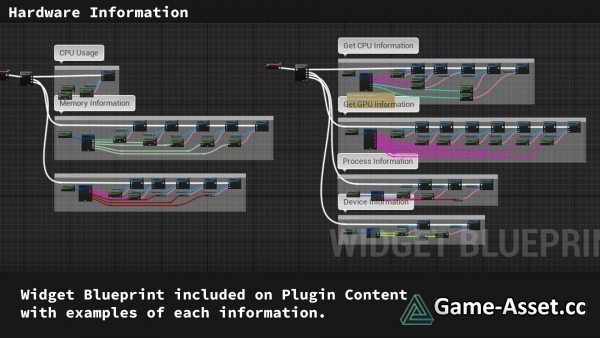 Hardware Information – download Unreal Engine asset.
With Hardware Information Plugin you can access easily data of the player system and hardware on Blueprints and use this for improvements, analytics or any other use that you want.
Improve the quality of life of your players, detect incompatible versions of GPU Drivers on runtime, CPU Vendors and adapt your game with technologies compatibles with each situation.
Want to know if your player is using a Gamepad? With Hardware Information Plugin you can detect instantly if a Gamepad is connected on the device.
Want to notify your that Capslock is active while the player is writing a password? You can know this information instantly too.
A mouse have been disconnected? Pause the game and your player will not be affected by a unfortunately error.
Hardware Information can be a good tool to improve the quality of life for your players.
Features:
CPU Information
GPU Information
Device Information
Memory Information
Process Information
OS Information
Code Modules: (Please include a full list of each Plugin module and their module type (Runtime, Editor etc.))
HardwareData (Runtime)
Asset version: 4.27
Rating: