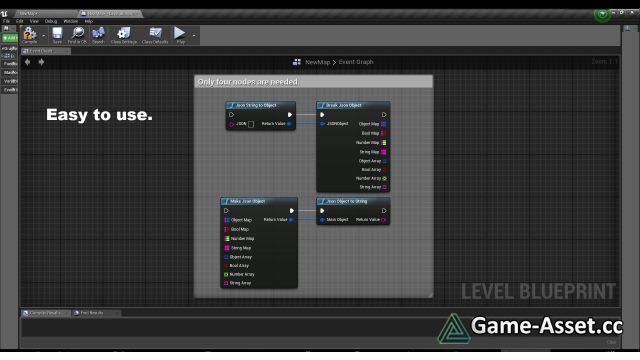 JSONParser – download Unreal Engine asset.
Easy way to read,create and manipulate JSON in Blueprints. File transfer is also possible. Save and read JSON (Harddisk).
Technical Details
Create JSON Strings
Read JSON Strings to Arrays and Maps
Manipulate JSON Strings
Struct to JSON, JSON to Struct*¹
Easy to use. 4 Main Nodes and few optional Nodes.
Compatible with UE4 Maps, Variables and Arrays
Supported Types: Bool, String, Number(double), Object, Arrays
File transfer. (Base64 encode/decode)
Compression*² (Zlib, Gzip, LZ4)
Save JSON to File and read JSON from File
Include C++ Source for C++ Projects
Asset version: 2.6 (4.27)
Download links for «JSONParser»: