CSW Auto-save plugin V2&nbspv2.1 (5.0)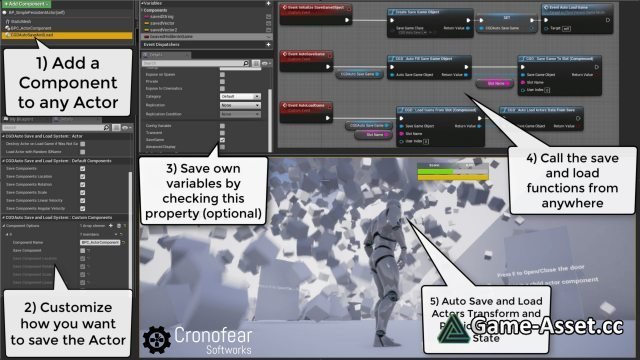 Unreal Engine Marketplace – CSW Auto-save plugin V2.
Save Actors, Character, Components, AI State, Widget State, etc. Add a custom component to any Actor and save the entire data of it. Save Actors across multiple levels or while using level streaming into a single and compressed file. Highly Customizable plugin! Async save also supported!
This plugin extends the functionality of the Save and Load system from the engine to ensure compatibility. Also, this C++ plugin is exposed to Blueprints. This allows saving and loading hundred of actors in a blink of an eye thanks to the power of C++ while, thanks to the versatility of Blueprints, no programming knowledge is needed in order to use this plugin.
Asset version: 2.1 (5.0)
Download links for «CSW Auto-save plugin V2»:

Rating: