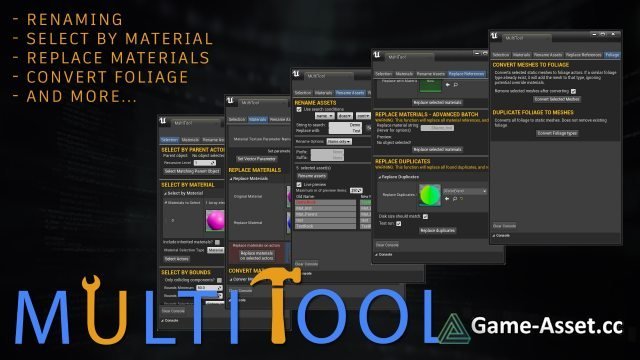 Download Unreal Engine Asset – MultiTool – Quick batch operations on assets.
MultiTool offers extra asset functionality that allows users to quickly do batch operations to assets or selections.
It has a clean and easy to read UI.
For a full list of features, please read the technical information below.
Features:
Different selection methods
Select by parent actor
Select by materials
Select by bounds
Material batch operations
Batch replace parent material
Batch set material instance properties
Batch replace materials
Convert materials to material instances
Advanced batch renaming tool
Filter methods (does not) (contain, start with, end with, equal)
Search / replace strings
Add prefix or suffix
Rename asset name, asset path, or both
Live preview before renaming
Replace References
Replace material references (All material types supported)
Replace materials - Advanced Batch
Replace Duplicates
Foliage
Convert selected meshes to foliage
Convert all foliage to meshes/foliage actors
Asset version: 5.0
Download links for «MultiTool - Quick batch operations on assets»: