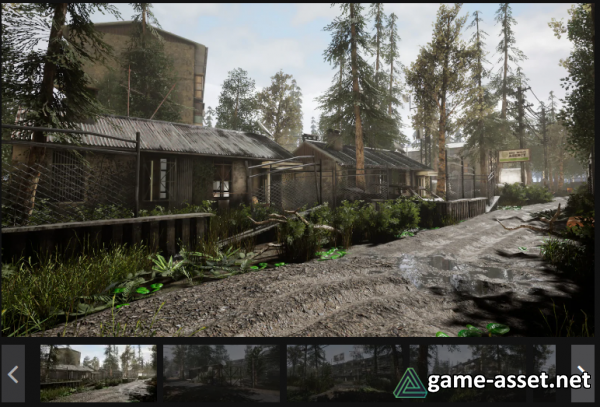 Download Unreal Engine Asset – Abandoned Post Apocalyptic City Packю
Abandoned City Environment including Interior Furnitures and Street Props. Contains over 300 Meshes and Modular Building Parts. Meshes are quite adaptable to cities with various Architecture Styles and Post-Apocalyptic Environments.
This extensive City Package consists of modular building parts,building meshes, street props and interior props.
Update_2 contains:
43 new meshes (including trees, plants , road) , 1 new map , 1 new building.
Update_1 contains:
1 Post Soviet Map
1 Prop Vehicle
9 Flat Modules for buildings
3 Tree Meshes
New BP Buildings.
Blueprint Flat modules with interior and furnitures
Technical Details
Features:
1 Abandoned City Environment built with Modular Meshes
1 Apartment-block Interior Environment
1 Overview Map depicting modularity of assets
Vertex Paintable Building Meshes including walls, slabs, structural elements etc.
8 Different Decals to create variety among the scene easily
2 Tree Types, 3 Bush Types, 2 Grass Types helps you to create the Post-Apocalyptic Effect
Fog Particle
Door Opening Blueprint
Technical Details:
Number of Meshes: 361
Number of Materials and Material Instances:
- 18 Master Materials
- 290 Material Instances ( 10 of them are Tileable and many of them are Vertex Paintable )
Number of Textures: 870
Texture Sizes: Varies from 1024x1024 to 4096x4096 ( Larger meshes have 2048x2048 and 4096x4096 textures)
Lowest Vertex Count: 24 (Wall Mesh)
Highest Vertex Count: 874000 (Building Mesh)
Collision: Yes (Automatically Generated)
LODs: No
Number of Decals: 8
Supported Development Platforms: Windows x64
Supported Target Build Platforms: Windows x64