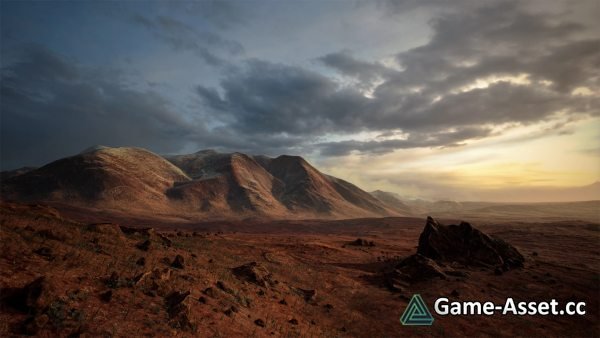 Download Unreal Engine Asset – Brushify - Desert Mountains Pack.
Modular desert environment toolkit. With a Landscape auto material, Multi-Biome support, Alpha brushes for terrain sculpting, high-res meshes and 8k textures. Build realistic deserts with ease.
Contains Brushify Landscape Auto Material. Allow users to paint multiple biomes with ease across huge landscapes. Supports flowmapping, tessellation, roughness, texture lods, optimized shader overdraw.
This pack comes with a playable level with a complete ready-made landscape. Everything you see in the screenshots is provided, along with the powerful shaders and workflows shown in Brushify tutorials.
Features:
4 Unique Desert Mountain Terrain Brushes (as pictured above)
Each Terrain Brush has both Meshes and Alpha Brushes.
1 Alpha Brush Texture is included that can be used to sculpt mountains directly into the landscape. (4 seperate brushes are stored in the RGBA Channels.)
Includes a simple landscape auto material that automatically textures the terrain as users paint.
Automaterial includes 9 Paintable Biome materials Grass, GrassDry, Desert, Dunes, Beach, Forest, ForestDry, Snow, Mud
Texture variants for multiple biomes are included (Snow, Grassland, Desert and Rocky)
Optimized Grass is also included
Includes rock meshes
Includes Procedural Spawner that automatically covers terrain slopes with rocks.
Includes a complete rock set: https://www.artstation.com/artwork/O10Pg
Asset version: 4.27
Download links for «Brushify - Desert Mountains Pack»: