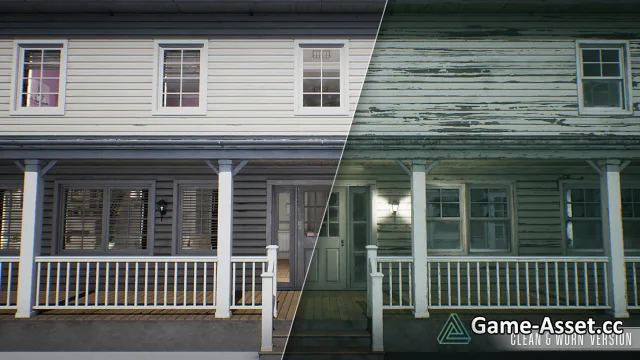 Download Unreal Engine Asset – High detailed Atmospheric House (Modular).
Super fast and easy to customize. Change your house from new and clean to old and worn with a single click. Build houses without the hassle of searching and drag & dropping house building meshes into map. Premade construction blueprints lets you change between meshes quickly and effectively.
Features:
Construction blueprints for walls out/in/basement, floors/ceilings, roofs, porch, stairs and doors.
Material swapper blueprint: Change all map materials from clean to worn and vice versa.
Material swapper blueprint: Swap specific map material to another one.
Modular meshes work with grid snapping.
Clean and worn textures/materials for all objects.
Main house materials are tweakable; more or less worn look and adjustable paint color.
Doors, windows, drawers and cabinets have separate mesh components/blueprints and can be opened, but package does not come with playable opening and closing function.
Night demo map. (Old and worn look)
Day demo map. (New and clean look)
Approximately 1.1 million triangles in demo scene. (With disabled realtime lights and no culling)
Optimized lightning for games.
Demo maps use baked lightmaps. For Ue5 there is also lumen version of the night worn demo map. Lumen map requires higher end pc.
Asset version: 4.26-4.27, 5.0
Download links for «Atmospheric House (Modular)»: