Ancient Temple Ruins - Mountains Environment&nbspv4.25-5.0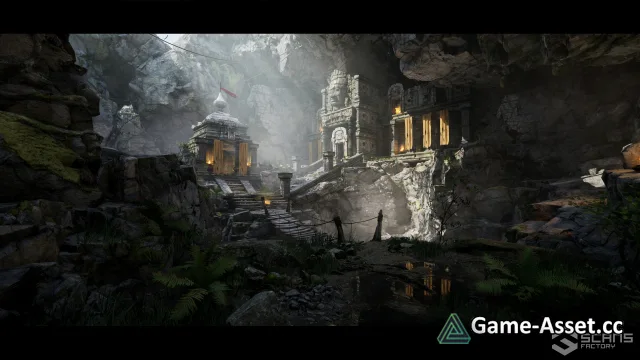 Download Unreal Engine Asset – Ancient Temple Ruins – Mountains Environment which remains adventure games and films. Almost 300 assets give you a variety of outdoor environments and full dungeons secret chambers possibilities.
Mountains Ancient Temple based on photogrammetry content could give you a realistic, believable world. But you can always crank it up to a more fantasy style with a proper lighting setup. This example you can find on our demo map. Immersive and atmospheric level and dungeons environment are what brings fantasy games to the next level. The map is huge and contains a few different samples join in one long walkthrough. It's the biggest map we did. We hope it will be useful for you.
All foliage, sounds, and effects on the walkthrough are included. Waterfall, river, fireplaces, and clothes are just a few of many effects with could empower your scenes.
Main meshes:
ancient temple with many elements
rocks
trunks, debris, roots, logs
foliage (trees, bushes, small vegetation)
stairs, floors
bridges
wood planks
ground stones, cobbles
and many more
Asset version: 4.25-5.0
Download links for «Ancient Temple Ruins - Mountains Environment»:
HOT4SHARE:
Rating: