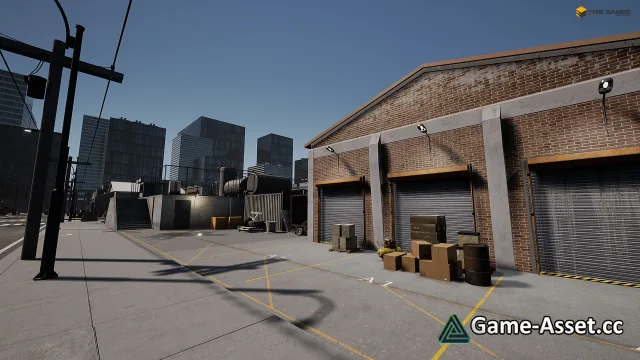 Download Unreal Engine Asset – Industrial City Mega Package, this package contains more than 700 models, you can also build as many buildings as you want with modular structures.
The Barbershop and Fastfood Building Pack are included in this package.
There are 710+ models unique in the industrial environment,
You can quickly create an environment as you wish, these parts are modular.
There are 12 industrial vehicles in the industrial environment,
These are cranes, dozers, trucks, forklifts, trains, and trailers.
The inside of the buildings can be easily entered, except for the industrial buildings, in our package, there is a barber and dining environment.
Everything is designed to fit very well together.
Features:
700+ Meshes
4.24+ ( For 4.19 and older versions, simply contact us via discord or mail.)
100% Optimization
Master Materials ( Vertex Paint )
Smart UV (easy integration of textures with each other)
PBR Materials (Material Instances)
Modular Doors, Roads , Buildings , Windows, Columns, Wheels, Doors, Fences, Etc. ( In addition Modular Trailer Forklift , Crane, Dozer and Truck )
Master Materials (Ground and Puddles)
Custom Collision ( Best Performance )
Modular Road
High Quality Road textures , Decals and Materials.
Power Line System BP
Asset version: 4.2x
Download links for «Industrial City Mega Pack»: