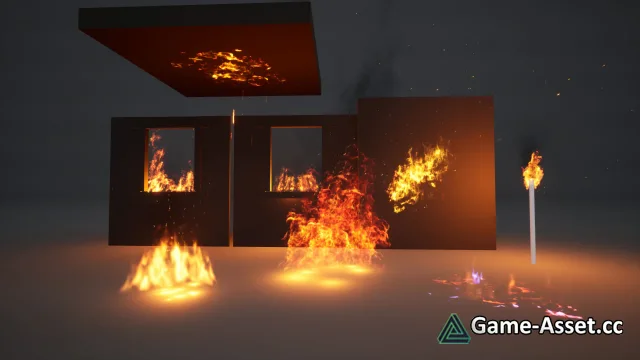 Download Unreal Engine Asset – A Niagara Realistic Starter VFX Pack 2 for starting or creating your own project not from scratch using new Niagara System.
This pack tries to make your life easier when you start your own project, with all effects you need for the beginning of your development and prototyping. Highly customizable!
Type of VFX: Environment, Fire, Destruction, Impact, Smoke, Steam, Sparks, Water, Flare, Tornado, Lightning, Dust, Acid, Water, Electric.
The pack includes:
Number of Unique Effects: 60
Number of Materials: 47
Number of Textures: 65
Number of Blueprints: 1
Number of Unique Meshes: 33
List of every effect:
Destruction (8) / Building, Ceramic, Concrete, Glass, Rock, Wood, Tiled
Environment (9) / Tornado, Debris, Cold Smoke, Leaves, Paint, Flare, Burnout, Volume Fog, Dirt, Storm
Fire (8) / Camp, Wall, Window, Floor, Torch, Ceiling
Lightning (8)
Smoke and Steam (8) Ground, Cold Smoke, Tornado, Acid, Ice
Sparks (11) / Embers
Water (8) / Acid, Splash, Dripping
Asset version: 4.2x, 5.0
Download links for «Niagara Realistic Starter VFX Pack 2»: