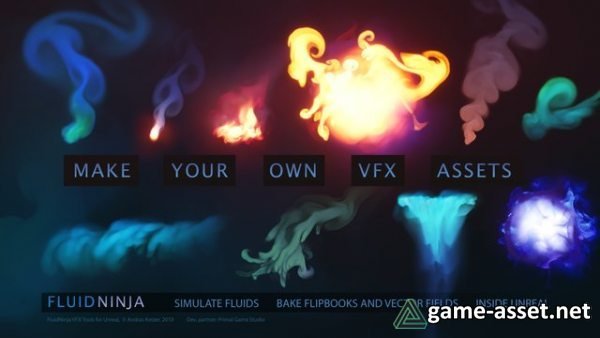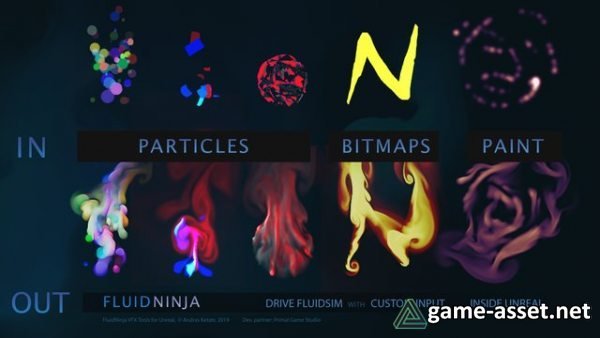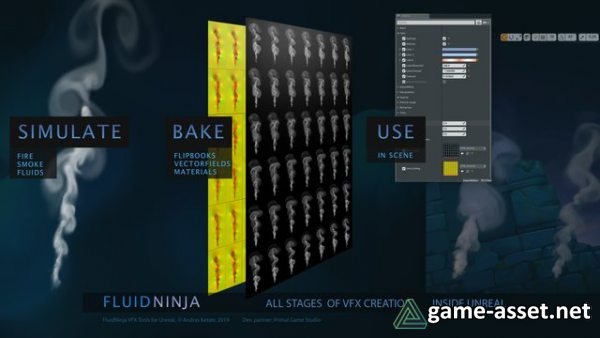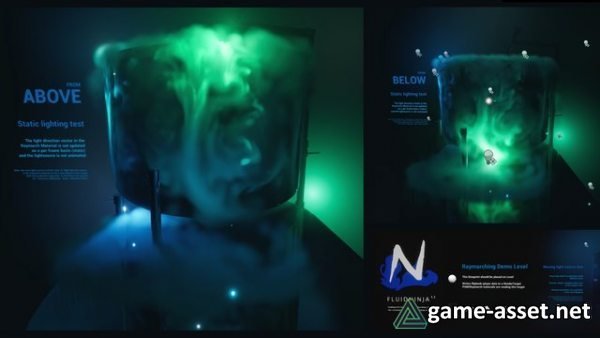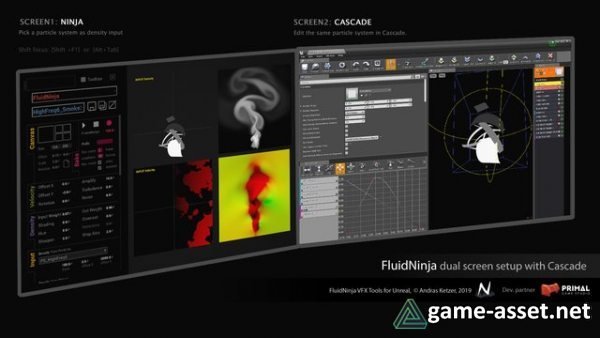 Download Unreal Engine Asset – FluidNinja VFX Tools
Bake real-time fluid simulation to flipbooks, flowmaps, materials and vector fields. Create presets. Generate fire, smoke, and fluids for character and environment effects. All inside Unreal Editor.
FluidNinja is a VFX toolkit for Unreal Editor, capable of baking real-time fluid simulation to Flipbooks, Flowmaps,
Materials and Vector fields. Ninja is designed to keep the whole process of VFX creation inside Unreal.
A set of tools integrated on a single UI, supporting quick iteration, rapid prototyping and encouraging users
to build their own library of VFX assets. In the core, there is a material based implementation of the Navier-Stokes
fluid model. The UI is providing interactive controls and a set real-time view ports displaying input and output data.
Control parameters could be saved as a preset. Ninja is a Blueprints + Materials project, relying on Editor Scripting
features.
Input
Cascade particles, bitmaps and a dynamic painter are providing the initial conditions for the simulation
Output
Flipbooks, Flowmaps and 3D Vector field data, plus ready-to-use Container Materials embedding the baked data
Technical Details
Real time, parameter controlled fluid simulator with density and velocity output
Atlas map and image sequence baker, generating Texture assets and Vector Field data
Material generator to automatically embed the baked assets
A library of tutorial and sample VFX assets (fires, smoke, plasma, explosions)
Supported Development Platforms: Windows, iOS and Linux based desktop PCs
The product is a toolkit for VFX developers, Editor Only
Asset version: 4.24-4.26
Download links for «FluidNinja VFX Tools»:
HOT4SHARE: