Forklift Pack&nbspv4.26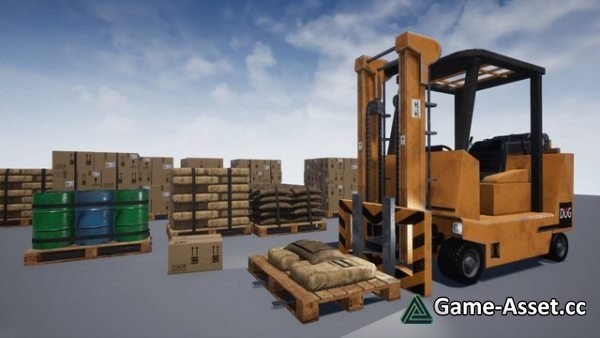 Forklift Pack – download Unreal Engine asset.
The bundle contains a forklift model with several industrial props; coffee- and cement sacks, boxes, pallets and 2 different barrels. It also has combined meshes with these props stacked and strapped onto pallets. Great solution for any urban or industrial project for either static set dressing, or dynamic actor. The chain uses a separate material and its texture offset can be animated for a realistic fork mechanism solution.
Features:
Separated submeshes (4 wheels, steering wheel, parking brake, 3 levers, fork mechanism, fork, pedals)
Emission maps provided for head- and tail lights.
A couple of industrial props are included
Texture Sizes:
1024x1024 and 2048x2048 (Props)
4096x4096 (Forklift)
Asset version: 4.26
Rating: