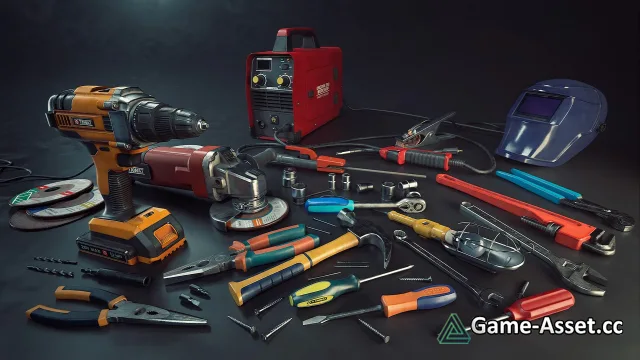 Download Unreal Engine Asset – Garage Tools Props. Collection of AAA quality realistic handheld tools. Customizable parts & materials included, for more variations.
This project has everything pictured and all asset were created for realistic visuals, style, and budget, suitable for use in cinematics, archviz projects and games. Pack includes optimized meshes & high quality 4k textures as well as different LODs for each prop.
It also contains a Global Master Material and Material instances with parameters for color variation, edgewear, dirt, dust.
Most props have adjustable or removable parts; For example: switches, fan, battery, pliers movement handles etc.
There is a Spline blueprint for making custom cables. Project also have 2 scenes (maps) for previewing assets.
Features:
High quality texture sets - 4k textures
Master material setup that control all props and models
Custom made masks for color, dirt, edgewear and grunge variations, for all tools.
Additional controls for Diffuse, Roughness, Metallic, Normal
Channel packed Roughness | Metalness | Color Variation Mask
Free of all legal issues as all branding and labels are custom made
Realistic Post Process and Look Up Table
Suitable for Cinematics, Archviz and Games
Fully detailed models from all sides
Includes 2 test dynamic lighting scene
Studio light scene setup in the pack that you can use in your project to showcase your assets
Asset version: 4.24-4.27, 5.0
Download links for «Garage Tools Props»: