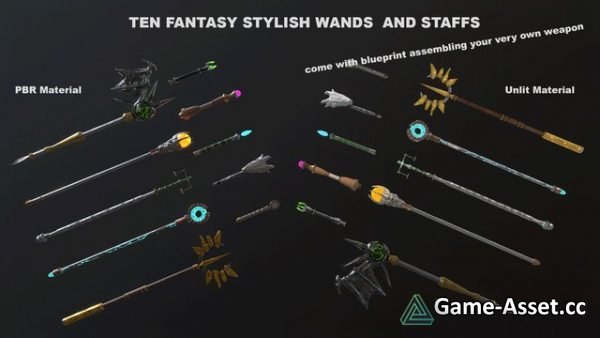 Ten Stylish Staffs and Wands – download Unreal Engine asset.
This pack include 10 fantasy stylish Staffs and Wands that come with 2 material set- PBR and Unlit Material (love to Low end Mobile),
Including modular part of the mesh to assembling custom combination of weapon, also come with an simple blueprint assembling your custom staffs and wands ((648 possibility weapon) Video demo), come with Clock arms rotate animation for the wands and modular part.
Modular mesh
- 9 Main body mesh
- 9 Head mesh (1 animated clock arms)
- 8 Tail Mesh
All the assets is this pack is under 1500 triangle count, and with 3 Lod (No Lod in modular part), and with 1024 x 512 high quality texture
-Common Question:
Q: Is the assets useable in PC/ Console game?
A: Yes, its useful for third person game as player hold weapon, or horde of enemy holding the weapon due to it low poly count and LOD
Q: Are they skeletal mesh or static mesh
A: Both version include
Q: What is Unlit Material/ texture?
A: Unlit is what we call Diffuse in last few generation, which include lighting, shadow detail all in one map
Q: Do they come with particle system
A: No
Asset version: 4.12-4.27
Download links for «Ten Stylish Staffs and Wands»: