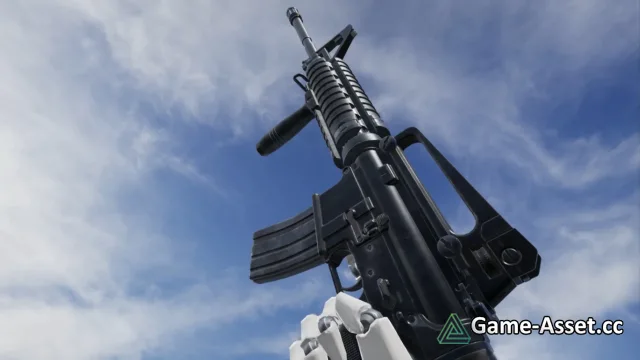 Download Unreal Engine Asset – CG_ARMod_Pack. The customizable assault rifle with 2 different firing modes, with animation and sound.
Realistic assault rifle with attachments. The project contains example blueprints for assembly.
One customizable assault rifle has two mesh options - classic and modern weapons (four skeletal meshes: two of them are combined with magazines, and two separately), multiple holo sights, laser/flashlight,
compensator, and silencer. Due to customization, you can get different views of weapons.
In addition, there are different firing modes. You can also customize the accuracy of the weapon.
This project uses a material layering system, so you can give your weapon a different look with different patterns. You can also change only a tint.
About the fire selector behavior. Depending on the firing mode, the fire selector will behave accordingly.
It will correspond to the selected mode and will remain in it until you switch to another mode or put the weapon on safety.
Animated for the first person.
Important Note: All projects of the "CG series" are based on a common platform, but are not uniform. Each project has a specialized logic of its own one. The project was conceived not as a complete one, but as an asset pack. So that users can take animation and weapon models for themselves in a more advanced project. The blueprints for this project are configured for presentation only. But advanced developers can improve it.
Asset version: 5.0
Download links for «CG_ARMod_Pack»: